US Chamber of Commerce Blog
Ian Wagreich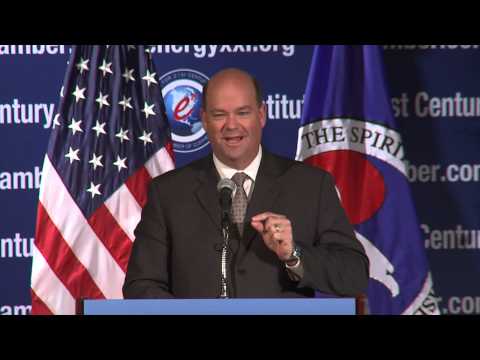 ConocoPhillips Chairman and CEO Ryan Lance has witnessed firsthand the evolution of his industry – from rough-necking to hard science.
He began his career in the trenches and now leads a team on the cutting edge of innovation – working to protect the environment and America's energy independence. Technicians for the world giant in independent exploration and production can direct drill heads to pinpoint spots miles below the surface. The industry advances have brought results.
"Over the last two years alone, 40 percent of the U.S. GDP growth came from oil and gas," Lance says, before adding: "And we did this through technology. Yes, oil is a high-tech business."
Lance, during a visit to the U.S. Chamber of Commerce last week, sat down to give us an exclusive look at his tenure and how he sees the oil and gas industry today – and tomorrow.
https://www.uschamber.com/blog/chamber-conversation-conocophillips-chairman-and-ceo-ryan-lance
Sean Hackbarth
An American Electric Power coal-fired power plant in Winfield, West Virginia. Photo credit: Luke Sharrett/Bloomberg.

EPA's "War on Coal" is succeeding in driving coal-fired power plants into retirement.

The Energy Information Administration (EIA) reports, "Nearly 16 GW of generating capacity is expected to retire in 2015, 81% of which (12.9 gigawatts) is coal-fired generation." At the same time, new electricity-generating capacity will come mostly from wind (9.8 GW), natural gas (6.3 GW), and solar (2.2 GW).

eia_electricity_addition_retirements_2015.png
Energy Information Administration electricity generation additions and subtractions, 2015.Source: Energy Information Administration.

EPA regulations are the villain, according to EIA:

The large number of coal-fired generator retirements is primarily because of the implementation of the Environmental Protection Agency's Mercury and Air Toxics Standards (MATS) this year, although some units have been granted extensions to operate through April 2016. MATS requires large coal- and oil-fired electric generators to meet stricter emissions standards by incorporating emissions control technologies in existing generating facilities. Some power plant operators have decided that retrofitting units to meet the new standards will be cost-prohibitive and are choosing to retire units instead.

And waiting in the wings are EPA's carbon regulations, which will retire as much as 49 GW of coal-fired power by 2020, according to the agency.

Removing that much base load power will mean a less-reliable power grid, the North American Electricity Reliability Corporation—the independent organization actually responsible for ensuring grid reliability—warns:

The proposed timeline does not provide enough time to develop sufficient resources to ensure continued reliable operation of the electric grid by 2020. To attempt to do so would increase the use of controlled load shedding and potential for wide-scale, uncontrolled outages.

It will also increase electricity costs.

Coal has served America well as part of its energy mix. Using federal regulations to drive it out of use will harm power grid reliability and economic growth.
https://www.uschamber.com/blog/epa-war-coal-will-shut-down-more-power-plants-2015
Sean Hackbarth
A welder along the Gulf Coast Project pipeline, part of the Keystone XL project, in Atoka, Oklahoma. Photographer: Daniel Acker/Bloomberg.

Apparently getting four Pinocchios wasn't enough to keep the president from spinning tales about the Keystone XL pipeline.  Last week in South Carolina, President Obama was asked about the project and answered:

Its proponents argue that it would be creating jobs in the United States. But the truth is it's Canadian oil that's then going to go to the world market. It will probably create about a couple thousand construction jobs for a year or two, but only create about 300 permanent jobs.

Glenn Kessler, the Washington Post's Fact Checker, demolished this point about the oil being exported, writing:

A report released in February by IHS Energy, which consults for energy companies, concluded that "Canadian crude making its way to the USGC [Gulf Coast] will likely be refined there, and most of the refined products are likely to be consumed in the United States." It added that "for Gulf refineries, heavy bitumen blends from the oil sands are an attractive substitute for declining offshore heavy crude supply from Latin America." It concluded that 70 percent of the refined product would be consumed in the United States.

The State Department also noted that the oil won't be exported:

Gulf Coast refiners have a significant competitive advantage in processing [Canadian crude]  compared to foreign refiners because the foreign refiners would have to incur additional transportation charges to have the crude oil delivered from the Gulf Coast to their location.

President Obama continued [emphasis mine]:

The reason that a lot of environmentalists are concerned about it is the way that you get the oil out in Canada is an extraordinarily dirty way of extracting oil.

"Extraordinarily dirty?" compared to what?

The Congressional Research Service found that on a greenhouse gas basis, Canadian crude is comparable to oil imported from Venezuela and Nigeria. Yet, I haven't heard the president calling for limiting imports of oil from those two countries. [Rail cars moving Canadian crude and the U.S. shale boom have done that.] Also, these worries about Canadian oil didn't stop President Obama from approving a pipeline transporting it in 2009.

Because the president is having trouble with them, here is a refresher of facts about the Keystone XL pipeline from his own State Department. The project will

Create 42,100 new jobs Generate $2 billion in earnings Add $3.4 billion U.S. GDP Produce more than $5.2 billion in property taxes for local communities Have minimal environmental impact and the lowest risk.

It's best if the president stick to these. Better yet, he should take this issue off the table, end this needless delay, and approve the Keystone XL pipeline.

Tell President Obama: It's Time to Build the Keystone XL Pipeline
https://www.uschamber.com/blog/if-you-want-facts-about-keystone-xl-president-obama-isnt-your-best-source